Unprofitable Sunnyside's scarcity value drives bidding war
09/02/21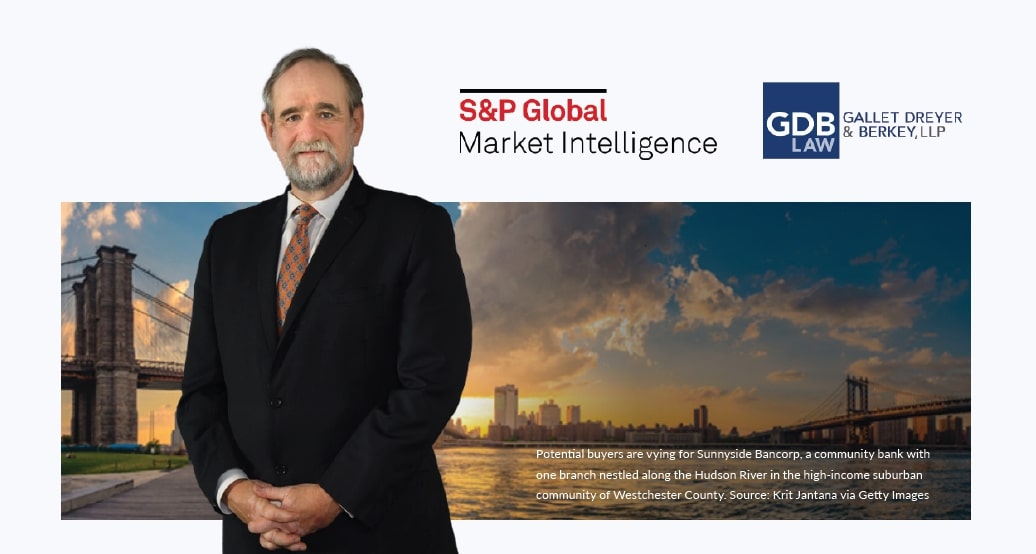 Written By: Lauren Seay | Featuring: Jay L. Hack | Partner at Gallet, Dreyer & Berkey LLP
You may access the full article via download or by clicking here.
Potential buyers are battling for a New York community bank with $95.3 million in total assets, one branch and consecutive net losses since the third quarter of 2018. 
After striking a deal in the first quarter, two additional suitors have emerged for Irvington, N.Y.-based Sunnyside Bancorp Inc. The bank is currently locked into a merger agreement with Rhodium BA Holdings LLC, a New York-based private equity group, but a bidding war has ensued after a local investor submitted a higher bid. That investor's current offer stands more than $6 per share above the original price in March when DLP Bancshares, a unit of DLP Real Estate Capital Inc., struck a deal at $15.55 in cash per share.

"It's a scarcity thing. There's not a lot of smaller institutions in the Northeast that are small enough that you could build from them and are in good geographies that you could compete if you put enough capital in them," said Richard Trauger Jr., managing director at Kafafian Group, a bank consulting group that advised DLP on its offer.
DLP's deal was terminated in June after Rhodium wooed Sunnyside in April with an offer of $18.50 per share in cash.

Then, in August, investor Kenneth Torsoe escalated the bidding war by publicly offering $20.00 per share in cash.