FAQ - Can Employers Require Their Employees To Get Vaccinated?
Written By:
12/23/20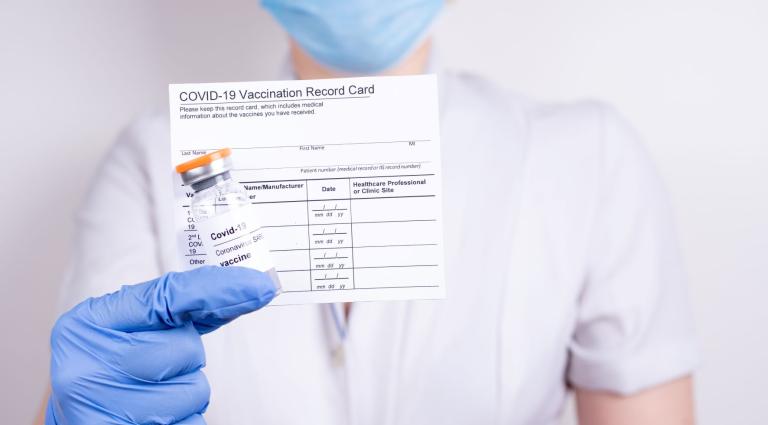 As vaccines to prevent COVID-19 become more widely available and accepted, employers might be considering whether they can - or should - require their employees to get vaccinated, as a condition of employment. Here are some considerations:
 
A) Can an employer require its employees to take the vaccine?
 
Yes, as long as the employer allows for exemptions for employees who can show that: a) they cannot take the vaccine for a documented medical reason, or b) they have a sincerely held religious objection. In either case, if the employee provides a legitimate medical or religious objection, the employer has a duty to try to make a reasonable accommodation that would allow the employee to continue working without taking the vaccine, while minimizing contact with others, such as working from home or being separated from having contact with other employees or patients, if such an accommodation is feasible. 

If there is no accommodation that is possible without causing undue hardship or burden on the employer, because, for example, the employee cannot work from home and must have direct contact with patients or co-workers, then the employer can terminate the employee for not taking the vaccine despite the objections.

EEOC Discrimination Guidance
 
At the beginning of the COVID-19 pandemic, the Equal Employment Opportunity Commission re-issued prior guidance regarding discrimination issues that arose in dealing with prior pandemics, with updates to address COVID-19 in particular. In that guidance, the EEOC answered the question relating to mandatory vaccinations as follows:
 
"Question: May an employer covered by the ADA and Title VII of the Civil Rights Act of 1964 compel all of its employees to take the influenza vaccine regardless of their medical conditions or their religious beliefs during a pandemic?
 
Answer: No. An employee may be entitled to an exemption from a mandatory vaccination requirement based on an ADA disability that prevents him from taking the influenza vaccine. This would be a reasonable accommodation barring undue hardship (significant difficulty or expense). Similarly, under Title VII of the Civil Rights Act of 1964, once an employer receives notice that an employee's sincerely held religious belief, practice, or observance prevents him from taking the influenza vaccine, the employer must provide a reasonable accommodation unless it would pose an undue hardship as defined by Title VII ("more than de minimis cost" to the operation of the employer's business, which is a lower standard than under the ADA).(36) Generally, ADA-covered employers should consider simply encouraging employees to get the influenza vaccine rather than requiring them to take it. As of the date this document is being issued, there is no vaccine available for COVID-19."
 
Reasonable Accommodations
 
On December 16, 2020, the EEOC updated this guidance with answers to questions relating to how employers should administer a mandatory vaccination program. The EEOC reiterated the prior guidance that reasonable accommodations should be made, if feasible, for employees with medical issues or religious objections. The EEOC noted that, if an employer administers the vaccination program, the employer's pre-screening questions may be considered questions that may elicit information concerning a disability, and which would require a business necessity justification. To avoid this issue, the EEOC suggested that employers use a third party that does not have a contract with the employer, such as a pharmacy or other health care provider, to administer the vaccination program. The employer can require employees to provide proof that they received vaccination from the third-party provider.

B) What are the potential liabilities for the employer?
 
If an employer enacts a mandatory vaccine policy and does not provide reasonable accommodations for employees with medical or religious objections, the employer could be held liable for terminating employees for not taking the vaccine despite a medical or religious objection, under the laws which prohibit disability discrimination and religious discrimination.

On the flip side, if an employer does not adopt a mandatory vaccination policy, and an employee who contracts the virus brings a claim against the employer on the theory that the employee was infected by a co-worker and that the employer failed to take adequate measures to prevent infection (such as mandatory vaccination policies), such a claim would likely be covered by the employer's workers compensation insurance policy which would provide a defense to the employer against the claim. The employee will have difficulty in prevailing on such a claim unless the employee can prove with some reasonable degree of certainty that he/she contracted the disease at work. 

C) What can employers do if an employee refuses the vaccine?
 
If the employee does not demonstrate a valid medical or religious reason for not taking the vaccine, the employer can terminate an employee who refuses the vaccine. If the employee demonstrates a valid medical or religious reason, the employer must make an effort to keep the employee, by making reasonable accommodations to prevent the employee's exposure to other employees or patients. If this is not feasible without causing undue hardship on the employer, then the employer can terminate the employee despite the medical or religious objections.
 
D) What happens if the employee is a member of a union?
 
If the employee is a member of a union, the collective bargaining agreement negotiated by the union with the employer may limit the circumstances under which the employer can terminate employees, and might prevent the employer from terminating the employee for not taking the vaccine. If the collective bargaining agreement does not address the issue, such a policy would likely be considered an issue which the employer is legally obligated to negotiate with the union before implementing such a policy.
 
E) Can the government require everyone to get a vaccine?
 
The short answer is probably yes. In a 1905 case, Jacobsen v. Massachusetts, involving a challenge to a Massachusetts mandatory smallpox vaccine law, the United States Supreme Court, by a 7-2 vote, upheld the Massachusetts law and held that it was not unconstitutional for the government to mandate vaccinations and to punish people who did not get them, so long as the policies do not "go so far beyond what was reasonably required for the safety of the public."
 
Some clues about how the U.S. Supreme Court might address a mandatory vaccination law can be found in three recent U.S. Supreme Court decisions, involving challenges to government restrictions on religious services to prevent the spread of COVID-19. In those three opinions, the majority of the Court consistently recognized the government has a "compelling" governmental interest in combatting the COVID-19 pandemic, and that public health officials require a certain level of deference in determining the appropriate ways to do so. 
 
But, in its most recent decision, Roman Catholic Diocese of Brooklyn v. Cuomo, a majority of the newly composed Court – with Justice Barrett replacing Justice Ginsburg - signaled that it is particularly sensitive to any restrictions on religious liberty. In that case, the Court ruled unconstitutional Governor Cuomo's Executive Order which imposed rigid 10 and 25-person occupancy limits on houses of worship in orange and red zones, because it singled out houses of worship and imposed harsher restrictions that did not apply to non-religious essential businesses, suggesting there were less restrictive means (such as percentage limits) that could have been adopted to minimize the risk of spread in houses of worship. In a concurring opinion, Justice Gorsuch criticized Justice Roberts' reliance on the Jacobsen v. Massachusetts case, commenting that religious liberty which is specifically mentioned in the Constitution presents a stronger individual right that demands stricter scrutiny than the right of "bodily integrity" and "substantive due process" which was at issue in Jacobsen. 
 
Currently, New York Public Health Law, and the laws of about 15 other states, require that all healthcare workers receive the measles and rubella vaccines as a condition for their employment, and for public school students. 
 
With regard to mandatory vaccinations for school children, the courts have uniformly upheld such requirements, despite religious objections, because of the government's compelling interest in preventing the spread at school. But it is not clear whether the U.S. Supreme Court would approve a mandatory vaccination program for all residents – adults and children – without permitting a religious exemption for persons not attending school and with little contact with others. 
 
The take-away from these decisions is that, in order to pass constitutional muster, any mandatory governmental vaccination law may need to include a religious exemption for persons who do not have contact with others and who can demonstrate a good-faith religious objection.
 
Because the situation is fluid, employers should monitor any new legislation or regulations. If the pandemic worsens as is expected, and if vaccinations become more widely available and accepted, it is possible that the legislature or government agencies might mandate vaccinations. 
 
Last month, the New York State Bar recently adopted a resolution urging the legislature to consider enacting mandatory COVID-19 vaccine policies if the pandemic cannot be controlled by other means and the vaccine is considered safe. 
 
Earlier this month, a bill was proposed in the New York legislature which would make COVID-19 vaccinations mandatory for all residents except for people with a legitimate medical excuse, with no exemption for religious objections. It is unknown whether this bill will ever become law. It seems likely that any legislation will eventually include exceptions for both medical and religious objections. 
 
It is also possible that the agency governing worker safety, the Occupational Health and Safety Association (OSHA), may issue further guidance on this issue. Currently, the OSHA workers safety regulations do not require employers to mandate vaccinations to protect employee safety, even for healthcare workers, and historically, OSHA has generally not issued vaccination mandates for other similar diseases such as the H1N1 influenza, but if the situation worsens and vaccines are proven safe and effective, OSHA could decide to issue regulations mandating vaccinations to protect employee safety, in which case, employers would be legally obligated to require vaccinations.